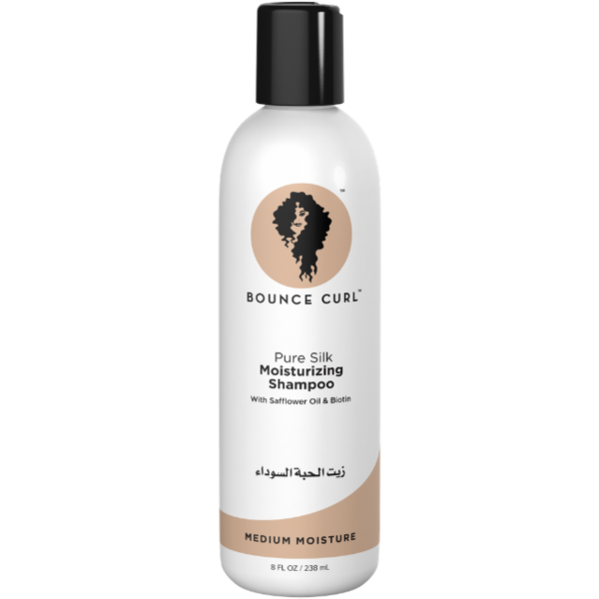 Bounce Curl - Pure Silk Moisturizing Shampoo
Bounce Curl - Products made with Carefully Selected Wholesome Ingredients and Pure Love.
NO harsh chemicals, NO silicones, NO parabens, NO Sulfates, NO PEG's, NO DEA/MEA, & NO animal testing.  Color Safe & Vegan 
What does it do?      
Level 2 Medium Moisture (For daily use)
Our Level 2 Medium Moisture Pure Silk Shampoo gives you a little more moisture than our Pomegranate & Pumpkin Enzyme Gentle Clarifying Shampoo. The third ingredient in the formula is safflower oil which helps calm frizz, repairs and detangles dry hair, leaving you with amazing shiny hair. It will not leave hair greasy. It is perfect for thin, medium, or thick hair.
Cleanses 2nd most out of the 3-moisture-level shampoo system.
Moisturizes hair a little more than the Pomegranate & Pumpkin Enzyme Clarifying Shampoo because it contains more oils.
Infuses oils into the hair shaft, reducing frizz.
Prepares and tackles hair tangles prior to conditioning.
Packed with Organic black seed oil, Pro-vitamin B5, Safflower oil, Biotin, Quinoa, Nettle, Lavender & Olive oil, Green Tea, Baobab seed & many more plant extracts that help restore hair.
Foam/Suds/Lather- Low ->Medium
*Most of our ingredients are plant based & it can take a few washes before experiencing all of the benefits. When using any NEW products, we recommend that you do an apple cider vinegar rinse so that you can effectively remove all build up from your old products. Simply mix 1-part apple cider vinegar with 3 parts water. Shampoo hair & rinse with water. Apply this ACV mixture on scalp & hair & leave on for 13 minutes. Rinse & follow with conditioner. Proceed to styling. We do have a special product coming soon that will help you reset & start fresh & it will be out in a few months.
Directions 
Wet hair in the shower. Use a generous amount of shampoo on sections of hair (top, bottom, side-to-side). Apply to scalp and massage in thoroughly. Apply to ends of hair if needed. Rinse shampoo out fully. Follow with Bounce Curl Pure Silk Cream Conditioner. 
 Scent
100% Essential oil scent. Revitalizing Citrus aroma creates a sense of well-being that permeates spirit, mind and body.
 *Our cleansers & hair perfume have a 100% essential oil scent. Our stylers have a man-made fragrance that is made by our Founder. The man-made fragrance consists of non-natural ingredients & natural ingredients. Half of them are essential oils. They are phthalate free & they do not known to be an environmental toxin. We do not disclose the ingredients because we work really hard creating them & we do not want other companies to steal our ingredients. Our scents are always less than 1 or 1.5% in all formulas. When we create our products, we test them with essential oil scents first to ensure that the scent will last. Sometimes, the essential oils aren't strong enough to mask the scents of the natural butters & oils & when this happens, we opt for man-made fragrances. As the line continues to grow, we will add more essential oil scented stylers.
Weather 
Works perfect in all weather
Ingredients
Water, **Decyl Glucoside, **Hybrid Safflower Oil, **Disodium Cocoamphodiacetate, Diethylhexyl Sodium Sulfosuccinate, **Glycerin, **Propanediol, **Pogostemon Cablin Oil, Panthenol (Pro-Vitamin B5), Polyquaternium-10, **Hydrolyzed Wheat Protein, **Vanillin, **Hydrolyzed Quinoa, Biotin, *Nigella Sativa (Virgin Black Cumin) Oil, **Euterpe Olecracea (Olive Oil) Fruit Extract, **Camellia Sinensis (Green Tea) Leaf Extract, **Lavandula Angustifolia (Lavender) Oil, **Citrus Aurantium Bergamia (Bergamot) Fruit Oil, **Hydrolyzed Adansonia Digitata (Baobab) Seed Protein, **Punica Granatum Fruit Extract, **Morinda Citrifolia Extract, **Sodium Laurylglucosides Hydroxypropylsulfonate, Caprylhydroxamic Acid, **Rosmarinus Officinalis (Rosemary) Leaf Extract, **Boswellia Carterii Oil, **Cocos Nucifera (Coconut) Oil, **Coffea Arabica (Coffee) Seed Extract, **Citrus Aurantium Dulcis (Orange) Seed Oil, **Garcinia Mangostana Fruit Extract, **Anthemis Nobilis Flower Oil, **Lycium Barbarum Fruit Extract, **Geranium Maculatum Oil, **Citrus Paradisi (Grapefruit) Seed Oil, **Citrus Nobilis (Mandarin Orange) Peel Oil, Ethylhexylglycerin, **Citric Acid. Essential Oil Blend (Scent).
*Certified Organic     **Plant Derived   100% Oil Scent (no synthetic fragrance)
Please note that we have changed our preservative system in June 2020 to a greener preservative.
* When using ANY new product on your hair or skin, it is important to test for potential allergic reactions. Place a small amount of the new product on the bend of your elbow or any other sensitive area of your body; leave for 24 hours. This patch test will show if you are allergic to any of the plant ingredients in our products. Discontinue use of any products that may cause allergic reactions.
*Ingredients may change or be re-formulated from time-to-time as Bounce Curl stays current with the latest and most innovative ingredients. We are always trying to improve our products and our company! 
*We use natural ingredients! The consistency, color, and scent of Bounce Curl products may appear different from time to time. This is normal and does not impact the effectiveness of the product. Rest assured, you will get the same fabulous results you have come to expect!
Share