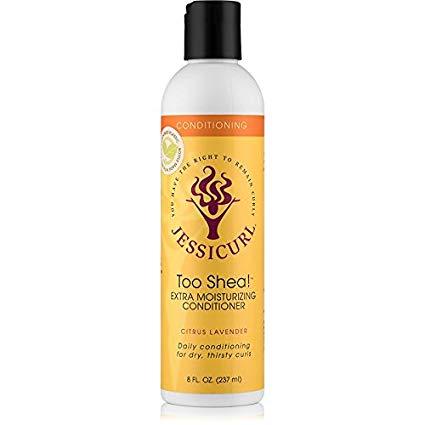 Jessicurl - Confident Too Shea! Extra Moisturizing Conditioner
Size: 8 Oz
Daily conditioning for dry thirsty curls!
Too Shea has shea butter, jojoba oil, avocado oil and tons of lovely herbs and spices that are all great for hair and scalp. Together they combine to make a thick, moisturizing conditioner that isn't too heavy and not at all greasy. It makes your curls so soft you'll have a hard time keeping your hands out of them. (But do try – touching your curls too much is a no-no)
How to use:
Apply to wet hair, comb through and rinse after 3-5 minutes. Follow with your favorite Jessicurl styling products. Too Shea can also be left in for all day moisture on dry curls or used as a deep conditioner for finer hair that gets weighed down easily.
Ingredients:
No Fragrance: Aqua (Water), Cetearyl Alcohol, Butyrospermum Parkii (Shea Butter), Simmondsia Chinensis (Jojoba) Seed Oil, Persea Gratissima (Avocado) Oil, Behentrimonium Methosulfate, Aloe Barbadensis (Aloe Vera) Leaf Juice Powder, Lecithin, Hydrolyzed Oat Flour, Equisetum Arvense (Horsetail) Extract, Mentha Piperita (Peppermint) Leaf Extract, Rosmarinus Officinalis (Rosemary) Flower/Leaf/Stem Extract, Laurus Nobilis (Bay Laurel) Leaf Extract, Ocimum Basilicum (Basil) Leaf Extract, Urtica Dioica (Nettle) Leaf Extract, Arctium Lappa (Burdock) Root Extract, Althea Officinalis (Marshmallow) Root Extract, Origanum Vulgare (Oregano) Leaf Extract, Cymbopogon Flexuosus (Lemongrass) Extract, Thymus Vulgaris (Thyme) Leaf Extract, Salvia Officinalis (Sage) Leaf Extract, Cinnamal, Citral, Eugenol, Geraniol, Citronellol, Limonene, Linalool, Benzoic Acid, Dehydroacetic Acid, Phenoxyethanol
Island Fantasy: Aqua (Water), Cetearyl Alcohol, Butyrospermum Parkii (Shea Butter), Simmondsia Chinensis (Jojoba) Seed Oil, Persea Gratissima (Avocado) Oil, Behentrimonium Methosulfate, Aloe Barbadensis (Aloe Vera) Leaf Juice Powder, Lecithin, Hydrolyzed Oat Flour, Equisetum Arvense (Horsetail) Extract, Mentha Piperita (Peppermint) Leaf Extract, Rosmarinus Officinalis (Rosemary) Flower/Leaf/Stem Extract, Laurus Nobilis (Bay Laurel) Leaf Extract, Ocimum Basilicum (Basil) Leaf Extract, Urtica Dioica (Nettle) Leaf Extract, Arctium Lappa (Burdock) Root Extract, Althea Officinalis (Marshmallow) Root Extract, Origanum Vulgare (Oregano) Leaf Extract, Cymbopogon Flexuosus (Lemongrass) Extract, Thymus Vulgaris (Thyme) Leaf Extract, Salvia Officinalis (Sage) Leaf Extract, Parfum (Fragrance), Cinnamal, Citral, Coumarin, Eugenol, Geraniol, Citronellol, Limonene, Linalool, Benzoic Acid, Dehydroacetic Acid, Phenoxyethanol
Citrus Lavender: Aqua (Water), Cetearyl Alcohol, Butyrospermum Parkii (Shea Butter), Simmondsia Chinensis (Jojoba) Seed Oil, Persea Gratissima (Avocado) Oil, Behentrimonium Methosulfate, Aloe Barbadensis (Aloe Vera) Leaf Juice Powder, Lecithin, Hydrolyzed Oat Flour, Equisetum Arvense (Horsetail) Extract, Mentha Piperita (Peppermint) Leaf Extract, Rosmarinus Officinalis (Rosemary) Flower/Leaf/Stem Extract, Laurus Nobilis (Bay Laurel) Leaf Extract, Ocimum Basilicum (Basil) Leaf Extract, Urtica Dioica (Nettle) Leaf Extract, Arctium Lappa (Burdock) Root Extract, Althea Officinalis (Marshmallow) Root Extract, Origanum Vulgare (Oregano) Leaf Extract, Cymbopogon Flexuosus (Lemongrass) Extract, Thymus Vulgaris (Thyme) Leaf Extract, Salvia Officinalis (Sage) Leaf Extract, Lavandula Officinalis (Lavender) Flower Oil, Citrus Sinensis (Sweet Orange) Peel Oil Expressed, Citrus Paradisi (Grapefruit) Peel Oil, Cinnamal, Citral, Eugenol, Geraniol, Citronellol, Limonene, Linalool, Benzoic Acid, Dehydroacetic Acid, Phenoxyethanol
Share