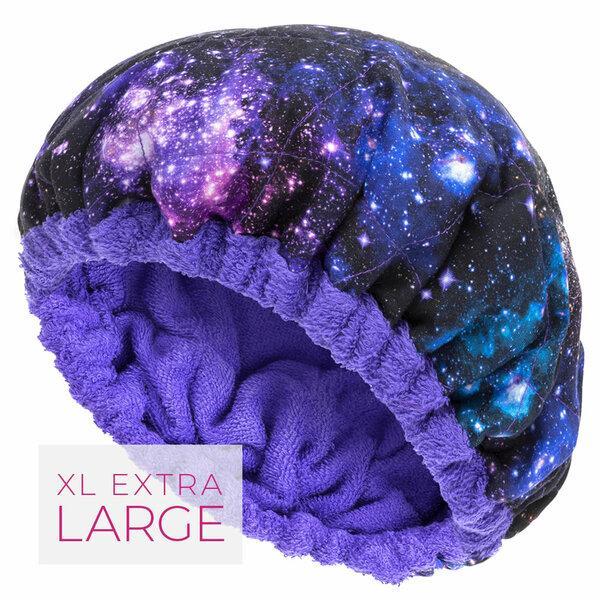 Thermal Hair Care Hot Head - Stellar XL
Hot Head™ microwavable deep conditioning heat cap.
This extra-large Hot Head is roomier than the original, making it perfect for extra thick/long hair, dreadlocks, and those who have outgrown their current Hot Head. Starting circumference, approximately 21" | Max circumference (fully stretched), approximately 44" | Diameter, approximately 22"
The XL Hot Head can also be used to set hair rollers instead of using damaging high heat tools. The gentle, moist heat it provides will set your curls just right! Be sure to let your hair cool off fully before removing curlers to lock in those waves.
Shoot for the stars with the Stellar Hot Head! A solid purple terrycloth on one side, an out of this world reversible galaxy print on the other.
Wear your favourite side facing out or alternate them depending on your mood.
Eco Friendly – Handmade with all natural materials 

Reversible and Reusable 

Available in multiple colours

Easy to use - Salon quality treatments in your home

For all hair types and textures

Produces enough heat for a 20-45 minute treatment

No cords, No fuss - Freedom to move about while deep conditioning your hair
ABOUT THE PRODUCT: 
Hot Head™ dramatically improves the results of your favourite deep conditioner, hair masque, oil, or other hair treatment. Without heat, your treatment can only do so much to improve the quality of your hair. Typically, the cuticle is closed, so the treatment is only able to work on the surface of the hair shaft. The results are minimal and superficial when compared to heat enhanced deep conditioning treatments. Hot Head enables the hair cuticle to open for an extended period, allowing the treatment to penetrate the hair shaft, nourishing it from the inside out. 
Shower caps are essential when using Hot Head! Save yourself a trip to the beauty supply store and add on a 10-pack of disposable shower caps. 
While you're at it, why not enhance your treatment with one of our scented spritzers?
Explore your options Sugared Spritzer, Dark Coconut Spritzer, Citrus Spritzer, Lavender Spritzer
Share